Coach Tour Operators
As Coach Tour Operators you are especially invited to add the Heritage Town of Dalkey to the list of places to visit. If you are looking for somewhere to showcase the best of what Ireland offers to visitors from home and abroad, then Dalkey ticks all the boxes. It is a day away from the city centre tourist attractions which is relaxing and varied and yet offers something unique in a seaside town with a village ambience so close to the capital.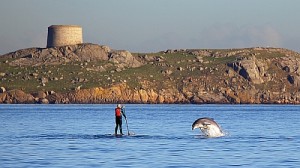 Stunning Scenery
Historic Places/Castles to see and visit
Great venues to eat and drink
Literary connections to James Joyce, Hugh Leonard, Maeve Binchy
Home to musicians such as Bono, Enya
Walk, See, Listen, Learn and be entertained
Friendly faces to meet you and talk to you
Travel along the coast road and enjoy the stunning views across to Dalkey Island.
Dalkey Castle & Heritage Centre – The Visit

Be horrified at the welcome to the Dalkey Castle underneath the Murder Hole!
Don't be frightened at the Ghost – it is a friendly Ghost! Meet the Archer and test your strength on the Longbow. Living History Live Performance 6 days a week all year round!
Enjoy the contrast between 15th century Living History Actors and the interactives of 21st century technology (available in twelve languages). Follow the interactive time line from early Christian through Viking, Medieval, Victorian to modern times in Dalkey. Explore the area's literary and creative connections in the Writers' Gallery.
Guided Historical / Literary Walks of Dalkey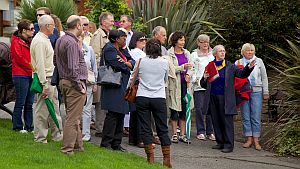 Extend your group visit to Dalkey and see the town and environs on foot as part of a Historical / Literary Walk of Dalkey where you will visit places connected to famous writers Hugh Leonard, James Joyce, G.B Shaw, Flann O'Brien & Maeve Binchy.
Guided Historical and Literary walks are available all year round and can be booked through Dalkey Castle & Heritage Centre. Explore the area in the company of a local guide and learn about Dalkey's historical and literary gems and some nuggets of local information not available in any guide book!
Special Offers on Teas, Coffees, Scones, Picnics and Lunches available locally with Castle visit.
Stroll around Dalkey and enjoy lunch in one of the variety of restaurants, cafes or bars to suit all tastes and pockets. Sit on a tram in the Tramyard Café and imagine you are on the last tram to Dalkey in 1949.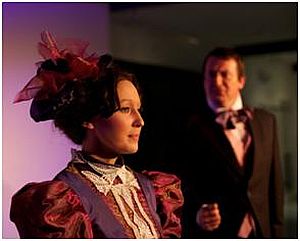 If you have visitors with an interest in Ireland's Literature then back in Dalkey Castle & Heritage Centre your groups can discover more about Dalkey's Literary connections by attending 'On Yer Bike with Dalkey's Writers.'  This is a unique performance of the work of famous local writers – James Joyce, Samuel Beckett, Hugh Leonard, Flann O'Brien, Maeve Binchy, John Millington Synge, Van Morrison and Joseph O'Connor.  The show, written by Shay Linehan, has a Flann O'Brien like character who will conjure up characters to play various well known scenes from the work of these writers which will entertain the audience.

Early Bird Dinner Menus in participating venues such as The Magpie Inn and Ouzo's can be booked to coincide with this show.
This will run on selected dates during 2013.  Enquire for details to margaret@dalkeycastle.com
Coach Parking:
Coach parking is available at the Bus Stop on Hyde Road. Drivers can drop their groups at the designated bus stop on Ulverton Road (100 metres approx. from Dalkey Castle) and then proceed to the parking space around the corner at Hyde Road. (See Map of Dalkey County Dublin).