Rock Climbing & Paragliding in Dalkey, Co Dublin
Rock Climbing
@ Dalkey Quarry, Dalkey/Killiney Hill

Bring your hiking gear and enjoy the morning rock climbing on Dalkey Quarry. All equipment: hardware, ropes, harnesses and helmets are included. You may however like to bring along your own rock climbing shoes but they are not essential. There are endless climbing routes available for all levels.
Dalkey Quarry, Dalkey, Co. Dublin
Courses available from:
http://www.extremeireland.ie
http://www.adventure.ie
http://www.mountaintraining.ie
Paragliding
@ Killiney Hill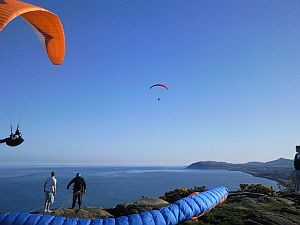 A stunning place to spread your wings. Views of Killiney Bay, Dalkey Island and Killiney Hill.
There are no boundaries in the air, so bring your gear and take flight.
Visit www.freefly.ie