Dalkey Art Studio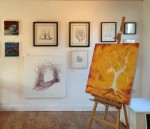 Denise French is a Professional Visual Artist and graduate of IADT Dun Laoghaire.  Denise lives and works in Dalkey, her richly coloured paintings and dramatic pen drawings can be viewed online at www.denisefrench.netor on Facebook "DalkeyArtStudio".
Denise welcomes visitors to her studio by appointment, or alternatively she can come to you with works that you may be interested in viewing.  There are also events during the year such as exhibitions and showcases.
Please visit facebook page for up to date events on https://www.facebook.com/DalkeyArtStudio
To arrange a studio visit/viewing please contact Denise on 0877504966.
Previous Exhibitions include:
The RHA, Dublin
The Concourse, Dun Laoghaire Rathdown Co Council
Fringe Arts Bath, UK
Dame Street Gallery, Dublin 2
OPW, Dublin 2
Temple Bar Cultural Trust, Dublin 2
Ouzos Restaurant, Dalkey
The LAB, Dublin 1
Facebook: https://www.facebook.com/DalkeyArtStudio
Send Message to listing owner
Dalkey Art Studio