Brighid "Biddy" McLaughlin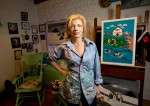 Brighid "Biddy" McLaughlin has been a story teller all her life. Born in Dublin, she is a self taught artist who lives in Dalkey, the beautiful seaside village in south County Dublin. She works in her traditional cottage overlooking Dalkey Island and the sometimes treacherous stretch of water known as Dalkey Sound, where she fishes and rows her boat. She paints in a truly naïve, folk style and her works depict Irish life and character as it was and is. In her painting she captures the tales of common and not so common folk caught up in the maelstrom of life.
Brighid has exhibited throughout Ireland:
The Leinster Gallery, South Frederick Street, Dublin 1.
The Dalkey Arts Gallery, Dalkey, CountyDublin.
The John Hurley Gallery, Tralee, County Kerry.
The Mc Bride Gallery, Killarney, County Kerry.
Her work is in the Collections of:
Blackrock Hospice, Blackrock, County Dublin.
St. Vincent's Hospital, Elm Park Road, Dublin 1.
Rockbrook Cottage
86 Coliemore Road
Dalkey
Co. Dublin
Ireland
Send Message to listing owner
Brighid "Biddy" McLaughlin