Dalkey Bloomsday Festival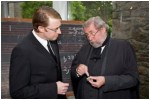 Dalkey Bloomsday Festival – 16th June annually.
The Nestor Episode, the Dalkey Schoolroom scene from 'Ulysses' will be brought to life before your eyes in a memorable dramatisation.
A guided Joycean Walk in Dalkey will be led by an expert Joycean Guide afterwards.
Get to know more of Joyce's work at the highly popular Joycean Evening where a team of actors will perform enlightening extracts from 'Ulysses,' 'Dubliners,' A Portrait of the Artist as a Young Man' and more.
Tenor Simon Morgan and Soprano Helena Byrne will be accompanied by Josh Johnston in songs that James Joyce sung or which feature in his work.
Contact Dalkey Castle & Heritage Centre for more information
Send Message to listing owner
Dalkey Bloomsday Festival